Braces/Brackets Barrington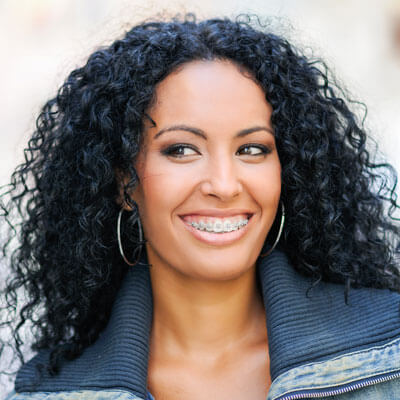 Straighten your smile effectively and inconspicuously with braces/brackets. These are available in ceramic, porcelain or metal. The brackets can be clear or color-matched to be the same shade as your teeth so you can enjoy a seamless look. A significant benefit of ceramic braces is they typically blend in with your teeth much better than conventional metal braces.
While most people prefer ceramic braces as they're less noticeable, some patients prefer the metal look of traditional braces. Metal brackets also move teeth quicker. Both options, however, get terrific results.
Straighten Your Smile in Half a Year!
We are pleased to provide Six Month Smiles® at our practice. This bracket and wire orthodontic system aligns the front upper and lower teeth in about six months. Depending on each patient's misalignment issues, the length of treatment will vary.
Six Month Smiles uses clear brackets and tooth-colored nickel-titanium wires. With this orthodontic option, we can correct various orthodontic problems affecting the cosmetic appearance of the teeth. Six Month Smiles is suitable for those 16 and older who have crooked, spaced or misaligned teeth. Other bracket systems are available.
What Does the Process Involve?
Just as is the case with clear aligners, we would take a cephalometric X-ray on every patient, to determine if we can perform the treatment in-house. We also would take a panoramic X-ray, photos, and impressions.
If we determine that fixed braces are ideal for your smile goals, we will place the brackets on your teeth.
Insurance and Payment Plans
We will always verify for insurance coverage. For kids we have the code for early interceptive orthodontics and will verify coverage for every child. Additionally, we check adult orthodontic coverage for every adult.
If your insurance doesn't cover orthodontics, we offer monthly payment plans and accept CareCredit®.
Book a Consultation
To determine if braces/brackets Barrington are right for you, contact us today to schedule an orthodontic treatment consultation!

Braces Barrington, North Barrington, South Barrington and Barrington Hills IL | (847) 865-4278