Partial & Full Dentures Barrington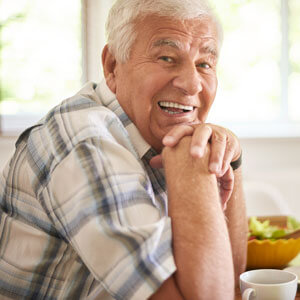 At Hart Dental, you will receive the custom dental care you need with a personalized touch. We believe in evaluating each person as an individual, then letting them know what all possible treatment options are to help meet their goals.
If you require tooth replacement, partial and full dentures may be the most appropriate solution. Dentures are cost-effective, easy to use and are simply maintained with the proper hygiene habits. They're available in different materials and formats depending on your particular situation.
Full Dentures
When you think of a denture, you probably picture the classic type of denture that replaces all of your teeth. Referred to as a full denture, it's appropriate for those who have no natural teeth left in their mouth. They can be made in a variety of materials to suit your budget and preferences.
Partial Dentures
If you have some teeth remaining in your mouth that are healthy, you don't want to have to lose them. You can keep your existing teeth and replace the ones that are missing with a partial denture. Just like a full denture, there are different materials that your partial denture can be made from.
All-on-4® or Implant-Supported Dentures
Dental implants can be placed and restored at our office. If you would like to have a denture with an incredible amount of ease and stability, you may be interested in implant-supported dentures. A number of implants are placed into the jaw bone, then allowed to heal. Afterward, you can have a denture placed on the implants.
Immediate Dentures Available
Nobody wants to go without teeth. We provide immediate dentures for people who have their teeth extracted to prepare for dentures. We'll still take impressions and do a try-in stage with a wax mock-up of your denture. But the immediate dentures allow you to have teeth right away and not have to go without until your permanent denture is created.
What to Expect When You Get Dentures
We'll discuss which materials are most appropriate for your denture at your first consultation. We recommend metal-based ones often, which are the strongest and most secure. There are some plastic versions with more flexibility, but you trade some of its strength in return for that flexibility and a better aesthetic. Since there are advantages of each, we'll determine which is best for your particular situation.
Impressions are then taken of your mouth. We'll do a try-in with a wax mock-up of a denture to make sure that your bite lines up, that you can speak normally and have a high degree of comfort. Once you approve, our laboratory will fabricate your denture.
In total, getting a denture takes 3-5 visits to our clinic over the course of two weeks. If you have a more complex case, we may have to refer you to an outside surgeon. The majority of cases, however, can be completed with our team.
Our Relining Services
According to the American College of Prosthodontists, your denture should be relined or replaced every 5-10 years. This process ensures that the bone and gum under your denture stay healthy. A relining involves material that is added to the part of the denture that touches your gums, adapting it to any changes in your mouth or repairing any part of the denture that requires it.
We can complete relining services in our office. For more extensive relining or repairs, we can send it to our local laboratory.
Enjoy a Beautiful Smile
Everyone deserves to feel proud of their smile. Contact us today to achieve your goals! You can book for a consultation for dentures Barrington or any of our other available solutions.
CONTACT US »

Dentures Barrington, North Barrington, South Barrington and Barrington Hills IL | (847) 865-4278