Ensuring Your Comfort During Dental Care
At Hart Dental, we are committed to keeping our patients relaxed and comfortable during their dental procedures. We offer a number of comfort options. Ask us for:
Guest Wi-Fi (hartdental guest/ password – happyteeth)
Cold or room temperature water
Coffee or tea (cream, honey, lemon, sugar, sweetener available)
Variety of sparkling water
Neck pillow, comfy blanket, or hot face towel
Music of your choice (with Bluetooth headphones or on TV)
Disposable earplugs
Netflix, Hulu, Amazon Prime, Magellan TV, YouTube
Stickers and toys for a job well done
Knee or lumbar support
Bite rest during your appointment
Lip balm or cocoa butter Vaseline
Back massage in your chair
Injection free anesthesia during your cleaning
Cute squishy stress balls
Nitrous (laughing gas)
Oral sedation (happy pills)
Unlimited breaks
Professional hand holding
Silly jokes
Or ask us for complete silence – we won't be offended
Mowimy po polsku / ми розмовляємо українською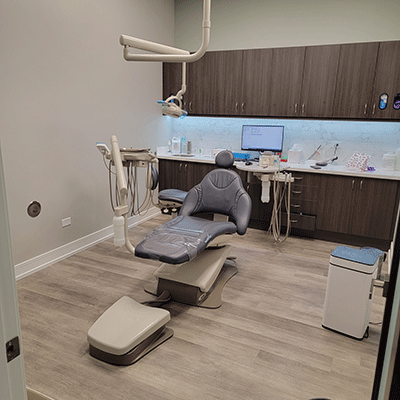 Offering Private Operatories
When our practice started in 2018, Dr. Aggie dreamed of having a beautiful open space for treating our patients. So when we built out the other two operatories in 2019 she was ecstatic.
While most of our patients love the open atmosphere, some patients prefer a quiet, more professional setting.
For those patients we have three private operatories, each with a door, for their appointments. At Hart Dental, we have something for everyone's comfort level.
Reasons for Tooth Sensitivity
While we do offer pain management and a variety of sedation options, after your dental work is completed you may experience some tooth sensitivity. Let's look at why that occurs.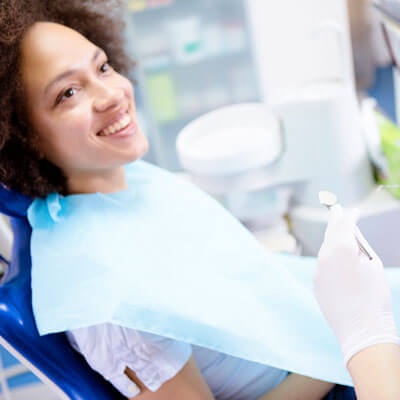 Fillings
Even when a cavity is large, it does not always hurt. Your tooth, despite the cavity, is in a balance or homeostasis. Once we remove the cavity, we upset this "balance." We upset the nerve and the tooth can be sensitive for days after the filling. Even though it is fixing your tooth, it's considered minor "surgery" within your tooth. It's like a bruise. Our fillings (we use a composite resin) are also very susceptible to any moisture—even from your breath—which can also cause sensitivity. This sensitivity is often resolved by placing a calming, sedative filling which contains eugenol (basically dental clove oil) and replacing the filling either the same day or a few weeks later.
High bite
Another reason for sensitivity after dental work is a "high bite," which means the filling is taller than it used to be. It feels almost as though only that tooth is touching. When you are numb, it is difficult for you to check your bite and make sure it feels normal. So when the numbness wears off, it can feel different. We can resolve this issue with a quick bite adjustment; no anesthetic or downtime is needed.
A crack or fracture
Another reason for sensitivity could be a crack or fracture. Fractures are not always visible on our 2D X-rays, and can sometimes happen to teeth that don't even have decay. We can help diagnose any fractures using our 3D Cone Beam—in house, at your convenience.
Home Care Tips
Here are our recommendations for addressing tooth sensitivity at home:
Avoid hot or cold foods or drinks that could cause sensitivity and tooth pain.
Brush using a desensitizing toothpaste that can provide relief until the symptoms go away.
Eat a soft diet as the filled tooth has some degree of inflammation. Hard foods can put the tooth under additional pressure, which can result in irritation and tooth pain.
Take an over-the-counter pain reliever such as acetaminophen. It's our experience that pain relievers are typically not needed though.
Maintain proper oral hygiene by brushing at least twice a day and flossing daily to ease inflammation of the gum tissues.
Try natural home remedies such as rinsing your mouth with warm saltwater.
We're Here for You
Our teeth and gums are a complex system. Preventative care is the most important, but once you do need a filling or a crown, we are here for you—before, during and after your procedure. If you have any issues, always call, text or email our practice. Your comfort is paramount to us, and we always guarantee our work!

Patient Comfort Barrington | (847) 865-4278