Meet Mark White, DMD, Pediatric Dentist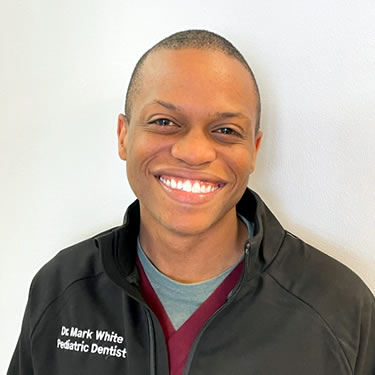 I have always loved both art and science, and figured out early on that dentistry was the perfect mix of both. I remember being deathly afraid of the dentist growing up and wanted to make sure the kids I saw had a positive experience."
Education & Experience
After earning a Bachelor of Science in Biochemistry from Virginia Tech, Dr. Mark attended dental school at the University of Illinois at Chicago (UIC). He graduated in 2016 with his Doctor of Dental Medicine degree with an emphasis on Public Health and Advocacy. Dr. Mark graduated with Pediatric Dentistry honors and possesses a wealth of specialty knowledge.
To stay abreast of the latest in dentistry, Dr. Mark constantly takes continuing education courses. Currently, he is interested in tongue & lip ties. He also frequently takes CE in prevention and minimally invasive dentistry, which are both important to him.
Dr. Mark also completed his Pediatric Residency at Ann & Robert Lurie Children's Hospital, where he has hospital privileges for complicated cases. During his residency, he expanded his skill set considerably and received extensive training working with special needs and medically compromised patients.
He is currently an attending doctor in the hospital in addition to teaching and mentoring pediatric residents. He is also a board certified pediatric dentist with the American Board of Pediatric Dentistry.
If any young children have problems with visiting Dr. Mark in the office, he's able to welcome them to the hospital, providing sedation or anesthesia to make them as calm and comfortable as possible.
Providing a Positive Experience for Patients
Dr. Mark loves creating positive experiences around dentistry. One of his passions is preventing decay and educating patients and parents about the dietary and hygiene-related causes. "It brightens my day when I see a patient's hygiene and attitude toward the dentist change dramatically."
Dr. Mark recommends that parents should have their children visit the dentist by age one, or within six months of their first tooth erupting. This helps us catch any problems early on, and ensures your baby has the best start possible to their oral health. Then, around age two, you can start bringing your child in for regular six-monthly checkups.
Outside the Practice
When he's not caring for kids' smiles, Dr. Mark loves to travel, learn different languages and explore outside cultures. He also enjoys keeping up with his young niece and nephew.
Fun facts about Dr. Mark: He grew up in beautiful Okinawa, Japan, and would love to go back and visit someday! Dr. Mark is also one of Dr. Aggie's best friends from dental school.
Book an Appointment
Contact us today to schedule an appointment with Dr. Mark. He can see and treat your kiddos as young as 2 years old!

Mark White, DMD, Pediatric Dentist | (847) 865-4278