Clear Aligners Barrington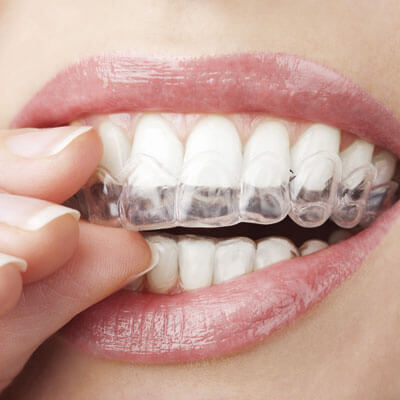 Turn on the TV or surf the Internet and you'll see that there are many clear aligner systems on the market these days. Clear aligners are ideal for those who have mild crowding. We can achieve expansion with clear aligners, but for more complicated cases or those who need more rotation, we use brackets.
We are pleased to offer two types of clear orthodontic systems that get excellent results for less than you'd pay for Invisalign®.
ClearCorrect™
This discreet clear aligner system is an excellent alternative to traditional braces. ClearCorrect straightens teeth by employing a series of clear, custom-made aligners that are also removable. ClearCorrect gradually moves teeth a little bit at a time until you achieve the movement you want.
With ClearCorrect, you wear one tray per week or one tray for two weeks.
Bioliner™
This orthodontic option gets results similar to Invisalign, but it's a more affordable alternative. Bioliner is an efficient orthodontic system that effectively corrects minor to moderate crookedness or spacing issues. With Bioliner, you wear the tray for an entire month. All the movement for the month is done with that one tray.
What Does the Process Involve?
Initial Complimentary Consultation
The first step is having an initial consultation with one of our dentists. We'll discuss what you want to achieve and what your needs are.
Orthodontic Records
This appointment is the most important one. We will take a cephalometric X-ray and a panoramic X-ray. Photos and impressions will be taken as well. From those, we will work with the lab and come up with a treatment plan. If you want to go ahead with treatment, we can order the aligners right away.
Final Consultation
We can do this in person or over the phone. During this last consultation, we will discuss the treatment time and any financials. Sometimes the final consult and the delivery of your first tray is the same day.
We can break up the process into as many or as few steps as you'd like.
Insurance and Payment Plans
We will always verify for insurance coverage. For kids we have the code for early interceptive orthodontics and will check coverage for every child. Additionally, we verify adult orthodontic coverage for every adult.
If your insurance doesn't cover orthodontics, we offer monthly payment plans and accept CareCredit®.
Book a Consultation
To determine if clear aligners Barrington are right for you, contact us today to schedule an initial complimentary consultation!
CONTACT US »


Clear Aligners Barrington, North Barrington, South Barrington and Barrington Hills IL | (847) 865-4278